Connecting the Drinks Trade
Over 10,000 drinks industry professionals attended the UK's biggest live and digital drinks trade event in 2023.
The London Wine Fair took place at Olympia on 15-17 May 2023, this progressive fair was rich with inspirational content, featured outstanding wines to taste from around the world and had an abundance of networking opportunities taking place in person and on the Fair's intuitive digital platform.
We look forward to seeing you in May 2024.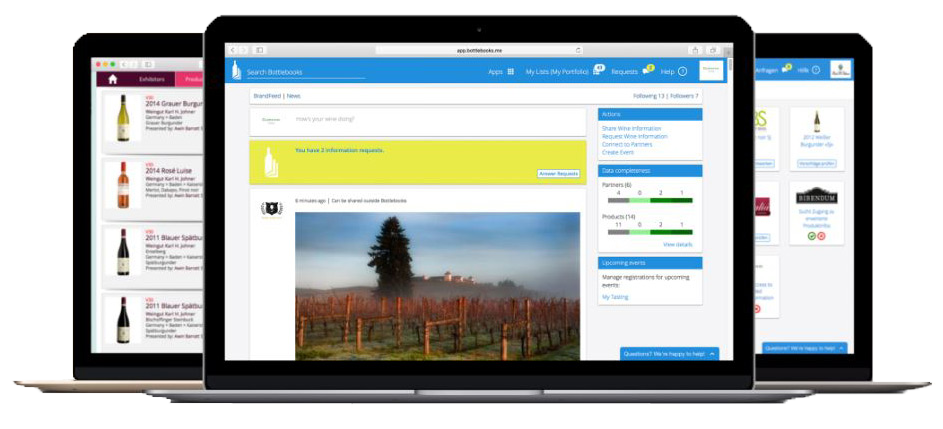 DIGITAL EVENT
Registration to the London Wine Fair also included entry to our digital event. We worked with the most intuitive platforms to provide our visitors and exhibitors with unparalleled networking experiences, matching them to the people they really wanted to speak with, a revolutionary app that redefines the way of experiencing in-person events and access to the most intuitive digital wine data platform in the industry - Bottlebooks.
Bottlebooks gave visitors the opportunity to discover wine, browse virtual stands by producer, importer, grape type, region and wine name and contact producers to request samples.
LIVE EVENT
London Wine Fair showcased products from over 400 top exhibitors situated in different zones, including Esoterica with exclusive wines showcased by an incredible selection of the UK's finest specialist importers, Wines Unearthed which featured wines that have never been imported into the UK before, Drinks Britannia which had the very best of home-grown drinks and the new Mindful Drinking Experience which following the popularity of low and no drinking, was a must attend area for every bar, restaurant or store. See what else happened at the Fair here.
Plus, we also had a packed schedule of impactful industry sessions, masterclasses and tastings.
A TASTE OF WHAT TO EXPECT
WHAT THE TRADE ARE SAYING...
Fantastic to see such energised and exciting product
categories across the event. From No & Low to emerging
wine territories. Such positivity, creativity and optimism!
Also, excellent to have sustainability running as such a core
theme throughout the event, creating new collaborations
and a renewed desire for change and improvement.
Monday and Tuesday were crazy; it was really good and we were certainly very pleased.
We have had a really good mix of visitors: indies, multiple retailers, national on-trade,
sommeliers, across the board from the decision makers to those on the shop floor.
We had an absolute blast yesterday at the London Wine Fair immersing ourselves in a world
of extraordinary wines, inspiring industry professionals and unforgettable wine experiences.
From the moment we stepped through the doors of this prestigious event, we were surrounded by an electric atmosphere
filled with the clinking of glasses and the hum of passionate conversations. The London Wine Fair truly lived up to its
reputation as a hub of wine excellence and innovation.
Yesterday I attended the London Wine Fair and it was
one of the most inspiring days of my wine journey so far.
I was able to taste amazing wines, from so many different
regions and producers, as well as attend #winetastings
and panel discussions with some of the most influential
voices in the world of wine.
Felix Solis has exhibited at the LWF for each of the last
10 years and 2023 exceeded our expectations. We had
meeting with most of our key customers and it provided
a great opportunity to explore new NPD to help rebuff
the ongoing headwinds the industry is facing. We look
forward to being back at Olympia in 2024.
A great mix of exhibitors and some really original
and newsworthy seminars - lots of food (and drink)
for thought here!
This has been the first time doing knowledge-sharing masterclasses, and it has
been really important for us to show off the expertise of our amazing portfolio. The London
Wine Fair has been an excellent forum. We have been delighted too by the calibre of the wine
professionals who have joined the masterclasses and been so engaged with the discussions.
BUYERS WHO HAVE ATTENDED LWF INCLUDE...